Johansson's Links
Some useful links





The Circuit Showdown Series is the combination of a classic Touring Car series and a Time Attack Competition

---

Community (in Swedish)
Syftet med Destination Philippines är att skapa ett öppet community för alla som har intresse av eller en relation till Filippinerna..
---

Photos from Philippines among others.
Updated with photos and Youtube vids 2010-03-20.
---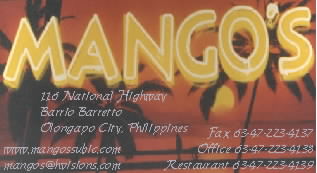 Mango's is a beachside bar, restaurant and hotel at Bario Baretto,
a few minutes walk from Johansson's
---

Swedish Community about the Philippines
---
Subic Bay Naval Base
SUBIC BAY Ship Repair Facility - CUBI POINT Naval Air Station - SUBIC BAY Naval Magazine - GRANDE ISLAND - OLONGAPO - SUBIC CITY - BARRIO BARETTO
The Girls from Olongapo
From the site above
---

This website is a reference for travel/living information about Subic Bay
---

Subic Homes aims to be the premiere residential
community in the Subic Bay Freeport.
---

RAO Subic Bay
is an Independent Retired Activities Coordination Office which provides vital services to U.S. military retirees living in this area, remote from any Navy installation.
---
Subicbay.net
Some useful info about the Subic Bay area.
---

---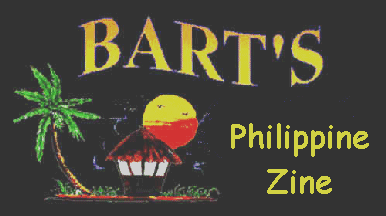 A good site with info about Subic Bay and The Philippines.
---
Subic Bay Weather forecast
Weather forecast by WeatherUnderground.com
---
Philippine online news
SunStar
- NewsBALITA
- Daily Inquirer/GMA
- The Philippine STAR
- ABC-CBN
- Bayanihan
- Manila Bulletin
- Manila Times
- Malaya
- Philippine News Agency
- Journal Group
- Daily Tribune
- Manila Standard
- Philippine Headline News
- Abante
- Abante Tonite
- Minda News
- Bulalat
---
How much of a Filipino are you really?
Take the test.